Singapore is a really small country. There are many places whereby space is really minimal. As such, putting up our various services at such places is really difficult. Here at Instantly.sg, we've often received enquiries on whether is it possible to place our photo booth service in a small retail shop. As much as we want to, we can't do that as the space is really too little. Taking into account such requests, we've innovated and come up with our smallest and sleekest photo booth ever – our brand new iPad AR Photo Booth.
As the name suggest, this photo booth runs via an iPad. It is small and takes up a foot print of only 60cm by 45cm. This makes it super ideal for placement in space constraint places, like inside a retail shop. There is also an adjustable ring light on it, making sure that all the photos taken are picture perfect. We've also made the app running our iPad AR Photo Booth fully customisable and extremely intuitive. Lastly, this photo booth services comes with augmented reality (AR) features. Want your guest to wear a funky hat displaying your brand name? No problem at all!
If you are looking for a small photo booth system that can drive traffic/engagement for you, our iPad AR Photo Booth is the definitely the perfect service. It is especially suitable for long term events or brand activations. Interested? Read more below or simply get in touch with us now 🙂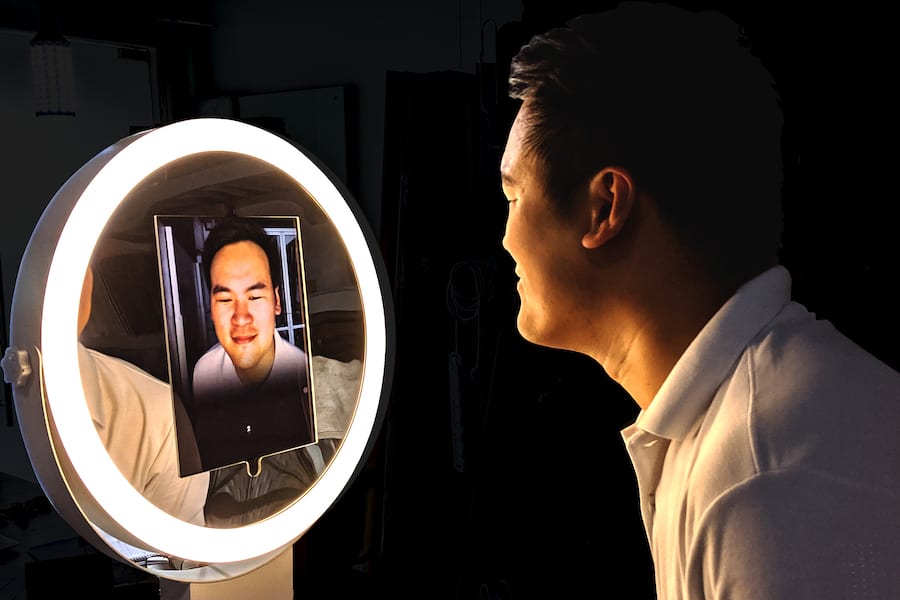 How does our iPad AR Photo Booth works
Step 1:
Take some props and grab a friend or two. Once ready, touch our iPad. The live view on the iPad will be activated and you can then position yourself accordingly. 
Step 2:
Try on some virtual digital props if you wish. You can choose from 10 different virutal props. All set? Touch the capture button to start the photo capturing process. Remember to smile and strike your best pose!
Step 3:
Once done, follow the instructions shown to you on the iPad. You will be prompted to enter your email address so that the soft copy of the photos can be emailed over to you.
Our iPad AR Photo Booth Package
Our iPad AR Photo Booth comes with full AR digital/virtual props capability. Below you will see some photos of guests wearing some digital props
Our iPad AR Photo Booth is a two in one service. Meaning, upon reaching our iPad AR Photo Booth, your guests can choose to capture a photo or capture a boomerang video. Boomerang videos captured can be emailed to your guests instantly.
Unlimited photo taking

Please note that the photos we take are in 1:1 (square) format

Unlimited boomerang videos taking
Large visible screen for the best photo taking experience

We use a 12.9 inch iPad pro

Choose between normal photo or boomerang video capture

If you wish, both options can be enabled for you as well

Fully customised overlay design (with Instantly.sg branding) 1
Instant emailing of all captured photo and/or boomerang videos
10 x Digital AR props included

Click HERE to view samples of our 10 standard digital AR props
Custom digital AR props can be created. See below section under Add Ons for more details

Standard props provision
Choose 1 backdrop from our standard range
At least 1 staff on site
Softcopies provision after event via our online gallery
Note:
1 You can revise the design for free up to the first 3 times. Every subsequent revision is at $30.
Our iPad AR Photo Booth Add Ons
Below showcases two boomerang video captured by our iPad AR Photo Booth. As you can see, customised AR digital props were placed on the guests head. Given your requirements, we can create different digital AR props and integrate it into our iPad AR Photo Booth for your event.
Below are a list of add ons compatible with our iPad AR Photo Booth. For more pricing and details about each add on, feel free to reach out to us directly.
| Add On | Description |
| --- | --- |
| Customised props | Printed on 5mm thick hard foamboard. Price starts at $15 per piece for size within A3. For bigger sizes and other materials, please get in touch with us separately 1. |
| Customised AR props | With this add on, we can create customised digital AR virtual props for your iPad AR Photo Booth service. These props will be digitally embedded to your guests face when they are taking their photos or boomerang videos. See sample photos (on top) and video (on the left) for examples. Do note that our iPad AR Photo Booth can support a maximum of 10 digital props. Which means, every customised AR props you have, we will need to take out 1 from our standard virtual props. |
| Customised backdrop | Size of 235cm by 235cm. Please note that the lead time for manufacturing a customised backdrop is about 5 to 7 working days. |
| Live photo feed | Photos taken by our iPad AR photo booth can be streamed in real time for projection 2. Please click HERE for more details |
| Removal of Instantly.sg branding | There will no Instantly.sg branding on any part of our set up. |
| Unlimited printouts | With this add on, photos captured by our iPad AR Photo Booth can be printed out instantly on a fully customised printout design. |
| Branding sticker | Our iPad AR photo booth will be fully wrapped with your branding. |
| WhatsApp station | With this add-on, your guests can WhatsApp their photos instantly to themselves. |
Note:
1 You can revise the design for free up to the first 3 times. Every subsequent revision is at $30.
2 Note that we will only provide the software for our Live Photo Feed. You will need to provide a laptop (with internet connection), projector and a projection screen.
For our iPad AR photo booth service, we will arrive 1 hour beforehand to set up.
We will require the following logistics:
A space of 60cm by 45cm
Space to be near to a power point
1 table for props

If you or your venue is not able to provide this. Kindly let us know. We will prepare our own tables accordingly.
Frequently Asked Questions
Where can I see your backdrop range?
Kindly visit HERE to take a look at our available backdrops
If I have a big space, which service should I choose? Your iPad AR Photo Booth or your usual photo booth service?
If space is not a constraint to you, we would suggest you take up our photo booth service instead. Reason being, our photo booth uses a professional DSLR camera for photo taking. As such, the photos taken are of higher resolution and quality as compared to the photos taken by our iPad AR Photo Booth (since it uses the iPad's front camera). That said, we would like to point out that both services have its pros and cons. And the overall decision as to which service to choose would depend on other aspect of your event as well. For instance, the guest profile, the nature of the event, number of guests etc. Feel free to reach out to us with more information so that we can better advise you. 
What iPad do you use? Is the screen very small?
We uses iPad Pro with a 12.9 inch screen.